Message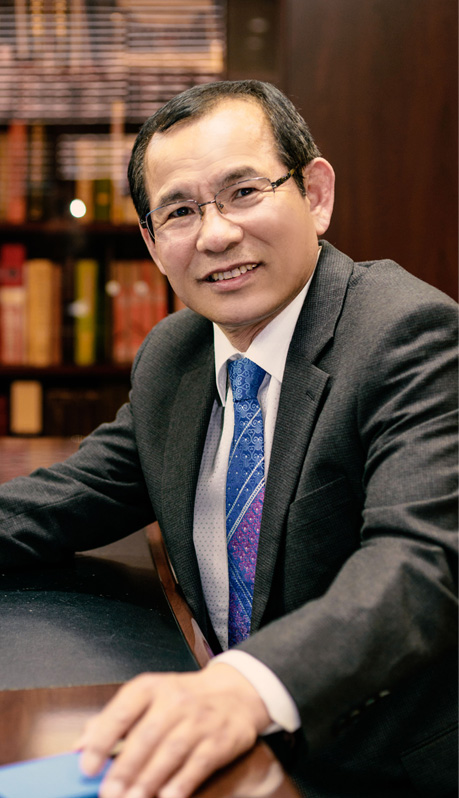 Welcome to the official website of Hwasung Fasteners.
Hwasung Fasteners is a professional fastener manufacturer that has been leading the special fastener market based on exclusive proprietary technologies since its foundation in 1988. Through continuous technology development and accumulated professional experiences and know-how, Hwasung has provided numerous projects at home and abroad with rigid qualification standards with quality products satisfying customer needs even at extreme high and low temperature or pressure.
Hwasung manufactures products that comply with diverse industrial codes such as ASME, ASTM, KEPIC, IFI, DIN, KS and JIS, while precisely understanding what a customer wants and expects from us. With flexible application of its proprietary technologies, Hwasung has differentiated its offerings with competitors and acquired enviable market competitiveness. We believe we could not have achieved the growth we have undergone in a relatively short time overcoming a short history without the supports and interests from our customers as well as our collective efforts for quality improvement and customer satisfaction. We promise to provide customers with quality products with the highest value through consistent quality management and technological development.
We will do our best and be truthful so that we can develop a relationship with any customer.
Thank you.
Won Il-bong, CEO of Hwasung Fasteners

Overview

History
Earned QPCⅢ(ASMEⅢ) quality approval for Wolseong nuclear

power plant by HYUNDAI Eng. & Construction Co., Ltd

Got quality approved for the Nuclear power plant use by KEPCO[Korea Electric Power Corporation]

Registered as fastener supplier to Hyundai heavy industy

Established HWASUNG FASTENRS Co., Ltd.

Establishment of R&D center

"One-KEPCO expor business group" organized by KEPCO

Earned a certificate of approval for ISO 9001 and ISO/TS 29001 by LRQA Korea

Earned a certificate of approval for ISO 14001 by LRQA Korea

Approved of a vendor by SAMREF in Saudi aravia (SAUDI Aramco EXXON MOBIL)

Accredited certificate of global brand 2002 choice company by KOTRA

Heat treatment line set up(at Kimhae-si)

Had quality system approved by KEPIC-MN/SN by KEA

Approved of vendor by Korea national gas corporation

Approved of a vendor for nuclear power plant (ASME SECⅢ)

Approved of "Q" class (ASME section Ⅲ) vendor by KEPCO

Accredited a "Q" class (ASME section & KEPIC-MN/SN)

Approved as a QAP Ⅲ(ASME section Ⅲ)vendor for KEPIC

(Korea Electric Power Industry Code)by Korea heavy industry

Approved of vendor bt "Q" class (ASME sectionⅢ) for Youngkwang nuclear power plant

Earmed a certificate of approval for "ISO 9001" by KPC-QA

Bapco oil refinery's expension pjt. by Italy's TechnipFMC

BECHTEL- Sabine Pass Liquefaction Project Stage 4

Business agreement with Hydro group(United Kingdom)

ITER(International Thermonuclear Experimental Reactor, FRANCE) pjt.

Accredited a "Q" class by Sin-gori 5,6 nuclear power plant

Approved of a vendor of saline water conversion corporation (SWCC) in Saudi arabia

Earned a certificate of approval for OHSAS 18000: 2007 by GERMAN cert.

Earned a certificate of approval for NORSOK M-650 by DNV & HHI

Earned a certificate of approval for NORSOK M-650 by MRC Energy-Piping, Equinor(TR-2000)

Exclusive vendor registration of Samsung Eng. clean fuel pjt.(KNPC)

Established 2nd production plant and moved R&D center (to 33 Dulleom-gil, Yangsan, Korea)

Earned a certificate of approval for PED(CE) by LOQA Korea

Approved of a vendor by Achilles JQS(for the oil industry in norway and denmark)

Accredited a "Q" class by Shinuljin nuclear power plant

Accredited a "Q" class by UAE BNPP nuclear power plant

Organization